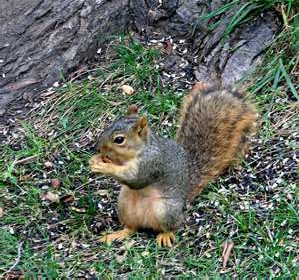 Natural Diet and How to Wisely "Gift" Nutritional Assistance
Calcium to Phosphorus Ratio
"Wherever possible, the following data was collected from the USDA. ... All foods, unless otherwise indicated, are listed in their raw form, and all calculations are based on milligrams per one hundred grams."
[For more information, see reference f06]
Introductory Notes
Dietary assistance that avoids the ignorance and pseudo-intelligence which facilitates starvation, malnutrition, and toxification of squirrels, and, in general, a willful virulence bent on destroying all life.

First, let's understand the vital Calcium-to-Phosphorous ratio in foods.

Human beings have a vast array of diseases (e.g., bone density deficiencies, mineral deposits that block brain function, circulatory clogging and calcification which creates aneorisms, heart attacks, strokes).

Why? Because it is profitable to a cult of "medical" parasites, parading as 'experts in health'. They are quacks related financially to the overused "Nazi doctor" metaphor. And yet, phosphorus-intense foods, like cow's milk, requires three (3) stomaches for a calf to digest and metabolize. In its biochemical-mineral form, especially before it is pasteurized and corporatized, it "is made" to rob humans of calcium in order to falsely induce a calcium-rich diet.

In other words, the "science" is manufactured (from thin air) by "magician"-marketeers and the bankers who vault their successes as "investment profit". There's no "truth" or "health" in that phrase, because it is not in their modus operandi. There is separated wealth.

Neither is there any "humanity" in that same group's "medical care" nor in their "wildlife rehabilitation" centers, just like there is njo treatment of cause" in their "hospitals".

They are PROFIT-centric, and, only incidentally, do they "do it" for LIFE... usually only "promoting", "advertising", and/or "propagandizing" it — as a PR (public relations) ploy — to sell life into a lifestyled substitute which benefits life not, and them as life-vampires ONLY.

The paradox which is suppressed is that PROFIT is not the source of any intentional "progress", but is, rather acts as a limiter upon it.

Why? Because it bankrupts, monopolizes, and otherwise "puts it out of business".

Life is NOT a business. Business is really just a busy-ness of the vampire feigning how much they accomplish for those upon whom they must incessantly-feed. It is no more than a frantic attempt to avoid intelligence and innovation by scarcifying possibilities, corning the access to knowledge and materials (suppressing is more accurate), holding any "solutions" for ransom, availing those pseudo-solutions made "on the cheap", and by suppressing any "news" about the ill effects of their parasitic mediation in the more-evolved way of resolving a trumped-up (and frozen-into-conflict) contradiction between ecology and human needs.

The dysfunctionality that results and is rewarded is an advertisement for a baneful and dying world: (1) life other than human is dismissed; (2) life other than my family is dismissed; (3) life other than my own is dismissed. Capital enables this dysfunctionality. The resulting psychopathic, sociopathic, and narcissistic [sub-]humanity completes the flattening circle, and makes any kind of three-dimensional elevation (aka "evolution") impossible.

Suffering, misery, and devastation — mutated into Capital for Hierarchy profitable dis-eased states of life — evolve only a faster way of swallowing [possible] life's tail — with a resolute finality — they end all by recycling completely, the "tale of an idiot": they cannibalize themselves. after debvouring everyone and everything else.

Each mineral's metabolization requires other minerals, as the calcium-magnesium connection testifies, so that a magnesium intake of a certain ratio is also required. We will explore that later on....

The goal of life (versus profit) then, for both squirrels and humans, is to avoid a low calcium-to-phosphorous ratio.


Color Coding
beneficial


conditional


toxic
Table of Contents
Poisonous Plants According to the Level of Toxicity
Introductory Notes
This list was provided by our friends at "Nuts About Squirrels". I will try to find out the original source of this list, in case there are further details and updates. Additional sites containing toxicity are:
Toxic
The plants in this list contain a variety of poisons that cause different symptoms, which can include skin rashes, drooling, diarrhea, abdominal pain, depression, tremors, and kidney damage.

Conditional
Eating or handling small amounts of these plants are unlikely to cause symptoms. However, some individuals may be sensitive to these plants.
Toxic
Agave
Almond leaves and pits
Aloe vera
Anenome (wildflower)
Angel Trumpet Tree
Apple seeds
Apricot leaves and pits
Autumn crocus
Azalea
Baneberry
Barilla
Begonia, sand
Belladona
Bindweed
Bird of Paradise
Black locust seeds
Black nightshade berry
Bleeding heart
Bloodroot
Bluebell
Bluebonnet
Bottlebrush
Boxwood
Bracken fern
Buckeye seeds
Buckthorne berries
Buddist pine
Buttercup
Butterfly weed
Caladium
Calla lily
Calamondin orange tree
Carnation
Carolina jessamine
Castor bean
Celladine
Ceriman
Cherry leaves, twigs and pits
Chinaberry tree
Chokecherry
Christmas cherry
Christmas rose
Cineraria
Clematis
Cockebur
Columbine
Cone flower
Cordatum
Cornstalk plant
Croton
Crown of thorns
Cuban laurel
Cycads
Cyclamen
Cypress surge
Daffodil
Daisy
Daphne
Delphinium
Dianthus
Diffenbachia (Dumbcane)
Dragon tree
Dutchman's breeches
Eggplant foliage
Elaine
Elder
Elderberry
Elephant ears
Emerald feather
Ergot
Eucalyptus
European bittersweet
Eyebane
Fiddle-leaf fig
Firecracker
Florida beauty
Flowering tobacco
Four O'clock
Foxglove
Fruit salad plant
Geranium
Golden chain
Halogeton
Hemlock
Holly
Horse nettle
Horsechestnut
Hurricane plant
Hyacinth
Hydrandea
Indian rubber plant
Iris
Ivy
Japanese Plum
Jack-in-the-pulpit
Jequirity bean
Jerusalem cherry
Jimson weed
Jonquil
Juniper
Lantana
Larkspur
Laurel
Lily of the valley
Lobelia
Locoweed
Lupine
Marble queen
Mayapple
Mexican breadfruit
Milkweed
Mistletoe
Monkshood
Morning glory
Mother-in-law's tongue
Narcissus
Nephytis
Nicotiana
Nightshade
Oak leaves
Oleander
Oxallis
Peach leaves and pits
Pencil cactus
Peony
Periwinkle
Philodendron
Pigweed
Pinks
Plumosa fern
Podocarpus
Pointsettia
Poison ivy
Poison oak
Poison sumac
Poke weed
Poppy (all but California)
Potato plant and sprouts
Pothos
Precatory bean
Primrose
Privet
Pyrocantha
Ranunculus
Red emerald
Red maple
Red princess
Rhododendron
Rhubarb
Ribbon plant
Rosary pea
Sago palm
Scotch broom
Skunk cabbage
Snow on the mountain
Spathe flower
Star of Bethlehem
String of pearls
Sweet William
Sweet pea
Swiss cheese plant
Tansy
Taro vine
Thorn apple
Tobacco
Tomato leaves
Tulip
Trumpet Vine
Violet seeds
Virginia creeper berries
Weeping fig
Western false hellebore
White snake root
Wild carrots
Wild cucumber
Wild parsip
Wild peas
Wisteria
Yew tree
Conditional
African violet
Air fern
Aluminum plant
Areca palm
Asparagus fern
Aster
Baby's breath
Baby tears
Bachelor button
Bamboo
Boston fern
Bromeliad
Butterfly tulip
Christmas cactus
Camelia
Chinese evergreen
Coleus
Corn plant
Creeping Charlie
Dahlia
Dandelion
Dracaena
False aralia
Fittonia, red
Forsythia
Fuschia
Gardenia
Hawthorne
Hibiscus
Impatiens
Jade plant
Japanese aralia
Kalanchoe
Lipstick plant
Maidenhair fern
Magnolia bush
Mountain ash
Nasturtium
Parlor palm
Peperomia
Petunia
Phlox
Piggyback plant
Polka dot plant
Pregnant plant
Purple passion
Rose
Shefflera
Skimmia
Snapdragon
Snake plant
Spider plant
Spider aralia
Staghorn fern
Swedish ivy
Sword fern
Tiger lily
Umbrella tree
Velvet plant
Wandering Jew
Zebra plant
Zinnia
Squirrel Nutrition
Introductory Notes
This list was provided by Clarissa Summers at "Squirrel Nutrition and Care", reference s01]
The "Stupid" List: Feeding No-No's
Acorns
Acorns (green)
Apples (if mealy or bruised)
Avocado (if "funny"-looking or "odd"-tasting)
Birdseed
Candy, cookies, cake, chocolate
Carrots
Corn ("slimy", even if organic, is approaching aflatoxin)
Cow's milk (skimmed or low-fat)
Dog food (ground; mixed with Pet Milk)
Enfamil (or other human baby formulas)
Egg-containing product
Egg yolk
Esbilac (puppy formula)
Fruit (moldy or bruised)
Gatorade
Garlic
Grain (cereals corporately-used to "fatten" herd animals)
Grain (cereals corporately-used to "fill" starving humans... such as Cheerios)
Grapes (if brown or crummy-looking)
KMR (kitten formula)
Lamb
Lettuce (Iceberg)
Monkey Biscuit:
Nothing (solves "nothing"; dis-eases are caused by a deficiencyk or from an overpowering/intrusive enervation)
Onions
Peanuts
Pear (if tainted)
Peppers (Jalapeno)
Pizza
Radishes
Rodent Blocks (commercial)
Similac (or other human baby formulas)
Sunflower seeds
Tea
Walnuts (if only fed Walnuts)
Poisonous Plants and Woods
Fruit trees (all except apple wood are poisonous)
Pecan (wood, leaves, bark)
Sago Palm Nuts
Desirable or Non-toxic Woods
Apple twigs
Arizona Ash
Hackberry branches
Maple
Oak branches (Remove all leaves, even new spring sprouts which can be toxic
Sycamore
Safe Formulas for Baby Squirrels
Scalded Milk Formula (made from full-fat, whole, milk)
Pet Milk (canned mixed half and half with water)
Nuts
Almonds
Brazil Nuts (rarely)
Cashew nuts
Chestnuts (if sliced open)
Hazelnuts or Filberts
Macadamia nuts (from the jar, not the shell)
Pecans
Pine nuts
Pistachio nuts
Walnuts
Leafy Green Vegetables
Beet greens (small, tender, and fresh leaves)
Celery, leaves and 1/2" very short piece of stalk)
Endive
Hackberry leaves
Kale (small, tender, and fresh leaves)
Lettuce (red-tipped or green-leafed; Romaine preferred)
Spinach (organic only)
Swiss Chard (small, tender, and fresh leaves)
Turnip greens (small, tender, and fresh leaves)
Other Vegetables
Beans (green; cut into in 1.5" sections)
Broccoli (small floret with stem)
Brussels Sprouts (cut in fourths from the base down)
Carrot (small chunk)
Corn (1" slice cut into four pieces)
Cucumber (unwaxed)
Okra
Pepper (green Bell)
Squash (Yellow, Zucchini, Butternut)
Snow Peas
Sugar Snap Peas
Sweet potato
Tomato
Fruits
Apple (cut away the core and seeds)
Avocado (no skin or pit since those are toxic)
Banana
Blackberry
Blueberry
Cantaloupe
Cherry (fresh with toxic pits removed)
Dates
Fig (too much can cause an overly-laxative effect)
Grapes
Kiwi (supposedly the most "nearly perfect" fruit)
Mango (small piece and skinned since the skin is toxic)
Mulberry
Nectarine (no pits)
Orange (in small pieces)
Peach (no pits)
Pear (cut away the core and seeds)
Pineapple
Plum
Raisins (feed only seldom, if at all)
Raspberries (these mold awfully fast so feed only those that are of the ultimate freshness)
Strawberry
Watermelon
Fungus
Mushrooms (Portabello mushrooms contain three carcinogens)
Seeds
Apple
Canteloupe (sun-dried; sparingly)
Pumpkin (high in phosphorus; makes squirrels and people nervous)
Squash (sun-dried; sparingly)
Watermelon (sun-dried; sparingly)
Grains
All block calcium; most contain additives; most contain honey which has a potential for botulism
Squirrel Rescue: Foods Adult Squirrels Enjoy
Introductory Notes
This list was provided by Squirrel Rescue at "Squirrel Diet", reference s16]
Rodent Block
Harlan Teklad Rodent Diets
KayTee Forti-Diet for Rats and Mice
Healthy Vegetables
Asparagus
Artichokes
Beans (green)
Broccoli
Brussels Sprouts
Cabbage
Carnations
Cauliflower
Cucumber
Okra
Peas
Peppers (Bell)
Potato (Sweet)
Pumpkin
Squash
Squash (Zucchin)
Vegetables that are High in Calcium
Beet greens
Carrot
Celery
Chicory
Chinese Cabbage
Cilantro
Chrysanthemum flowers
Collard (greens)
Dandelion greens
Endive
Escarole
Fennel
Kale
Lettuce
Mustard
Parsley
Radicchio
Radish
Romaine
Spinach
Squash
Turnip greens
Watercress
Wild and Natural Foods
branch tips
Dandelion greens
Magnolia cones
Pine cone
Pine branch
Pine bark
Plantain
Purslane
Roses
Animal Protein
Cheese
Crickets
Eggs (hard-boiled)
Mealworms (live or dried)
Moths (live)
Yogurt (plain)
Nuts and Seeds
Acorns
Almonds
Hazelnuts
Macadamia nuts
Pecans
Pistachios
Peanuts
Pumpkin seeds (roasted, unsalted)
Sesame seeds (high in calcium)
Walnuts
Something to Chew On
Deer antlers (high in calcium; keeps constant tooth growth in check)
tree branches
sea shells
cuttlebone (from the cuttle fish)
Foods to Avoid
fruit (dried)
vegetable (dried)
Avocado (pit or skin)
Potato sprout
Garlic
Onion
Palm heart
Corn (fresh or dried)
Yam
Fig
fruit juice
Plum
Prune
Raisin
Cashew
Sunflower seed
Pine nut (causes severe calcium loss)
commercial squirrel food
pasta
breads
sugary food
junk food
artificial sweetener
Our Offerings to the Squirrels
A Mutually-shared Integrated Squirrel Health List
Introductory Notes
Dietary assistance that avoids the unintentional ignorance and pseudo-intelligence which intentionally-facilitates scarcity (another term for "starvation"), malnutrition (another term for "immiseration"), and toxification (another term for "suffering") of squirrels, and, in general, of all life — by willful virulence bent on destroying all life — is to think first, think totally (not just partially), and to act openly and consistently, while observing and learning how to think and act better each cycling-up from the "flat" circularity of redundant-and-static practice... pushing a circle upwards into a helix. That is what an evolved and intelligent and active species does, and if it doesn't do it for ALL species, and through the unpresumed eyes and non-forced needs of its fellow species, then it is neither "better", "evolved", or "intelligent". Rather, it merely demonstrates its inferiority, ignorance, and self-indulgent pomp.

Let's look at "food" then, as a source of energy that can be transferred WITHOUT mediation, from one state to another, particularly a photosynthesized botanical state — itself raised from a mineral and bacterial state — to a one suitable to support sentient beings. Oh, if there's any thing more bloated than saying that humans are the only sentient, mindful, playful, self-aware, other-conscious, and soul-possessing beings in town, then leave it to that same human being to describe as an excuse for being as lowly as they are.

The "food" choices for one species are the "toxins" of another. That's always overlooked by those "medical experts of overlooking", the AMA-FDA-Pharma cartel. They regularly treat blood type history as a fiction, just as in mistreating anyone who wishes to know biochemistry. [Note that their "training" avoids the latter like the plague they themselves spread for profit.]
Color Coding
beneficial


conditional


toxic
Table of Contents